Join Transform 2021 this July 12-16. Register for the AI event of the year.
In the months since Apple introduced the new MacBook Pro, with its distinctive Touch Bar display above the laptop's keyboard, more and more developers have updated Mac apps with support for the component — from Chrome to Evernote, from documentation app Dash to Instagram client Flume.
Typically, Touch Bar integrations make it easier to do certain things in apps that you already use. That's true of the Touch Bar features in Excel, for example.
That's all well and good. But if you're going to spend the extra money on a laptop that has one of these doohickeys, you might as well get the most you can out of it. And, as far as I can tell, there is just one app for the Touch Bar that really makes a difference in day-to-day work. It's called BetterTouchTool, from independent developer Andreas Hegenberg of Germany. (BetterTouchTool also lets you make custom functions for Apple's Magic Mouse, Magic Trackpad, and Siri Remote, and even for a Mac's keyboard or trackpad, but I'm not going to address those capabilities here.)
The app lets you create and manage custom buttons for your Touch Bar. You can use those custom buttons in all apps, or you can set up special buttons for use only in certain apps. And each button can perform multiple functions at once if you like. If you're not up for tinkering, you can just add canned "widgets," including one that shows your MacBook's estimated battery life. (Apple actually recently removed this standard-issue feature from macOS Sierra, but BetterTouchTool lets you get it back!) There are so many possible permutations — and if all the options aren't enough, you can associate buttons with your own scripts written in AppleScript. Or you can kick off an Automator workflow.
Above: BetterTouchTool.
I personally see BetterTouchTool as a way to get right to certain places on my computer. Some buttons open specific folders. Some buttons open apps. Some buttons bring up important websites. And yes, I have a button for making screenshots just the way I like 'em.
Yes, Apple does give you a way to choose which buttons you see on the Touch Bar, including in the Control Strip on the right side. But the options will look very limited when you see what you can do with BetterTouchTool.
BetterTouchTool enables you to reimagine the Touch Bar the way you've always wanted. From precisely editing the existing setup to creating new functional buttons to even defining the spacing between elements, your Touch Bar will be able to encompass unique triggers that. Google Toolbar is faster, sleeker and more personalized than ever before. Download Google Toolbar. Google Toolbar is not available for this browser. Requires Internet Explorer 6+ Windows XP SP3/Vista/7+ See search results as you type with Google Instant.
You can download BetterTouchTool from the app's website and use it free for 45 days. To keep using it after that, you'll need to buy a license, which costs as little as $5.
VentureBeat
VentureBeat's mission is to be a digital town square for technical decision-makers to gain knowledge about transformative technology and transact.Our site delivers essential information on data technologies and strategies to guide you as you lead your organizations. We invite you to become a member of our community, to access:
up-to-date information on the subjects of interest to you

our newsletters

gated thought-leader content and discounted access to our prized events, such as Transform 2021: Learn More

networking features, and more
Become a member
Hey nicotine69,
Better Touch Tool Bootcamp
Welcome to Apple Support Communities! It sounds like you have the Touch Bar displaying on your MacBook screen, and you're looking to remove it. I'll be happy to help out.
Better Touch Tool Btt
Switch Control is used to display the Touch Bar on the MacBook screen. The steps to turn this off are here: How to use accessibility features with Touch Bar on your MacBook Pro - Apple Support
Specifically, here's those steps to turn it off:
Use Switch Control with Touch Bar
You can use Switch Control to display Touch Bar on your MacBook Pro screen. This lets you access Touch Bar elements with standard pointer controls.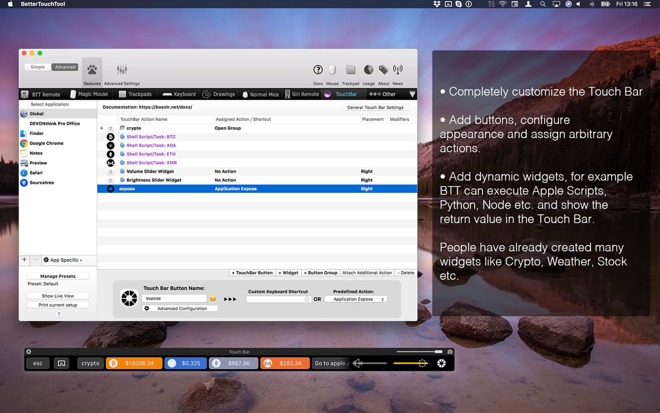 First, turn on Switch Control:
Choose Apple menu > System Preferences, click Accessibility, then click Switch Control.
Click General, then select Enable Switch Control. The Switch Control Home Panel appears on your desktop.
Next, toggle Touch Bar:
In the Switch Control Home Panel, click System.
Click Toggle Touch Bar to show or hide Touch Bar.
Better Touch Toolbar Free
Did that remove it for you? Let us know. Cheers!
Apr 11, 2018 2:02 PM