Brave Browser is one of the best alternatives to classic browsers that you can find online. If you want to visit all of your favorite websites without having to view ads or other commercials, try this tool. Plus, it limits factors that track your session and keeps your information from circulating the web. Today's video is about Brave Browser Review. We will test the Brave browser in terms of Speed, Privacy, Performance impact and Rewards.Download Brave Browser.
dApps

BAT, brave, browser, erc20, ethereum, tor
Browsing the Internet is something most of us spend some time doing every day, some more than we should.
And sure enough Google and Safari provide a "free" service for our browsing experience.
Well, it's not really free because they are making a lot of money through ad revenue and selling our data.
Imagine a browser that pays you for browsing. Or one that doesn't sell your data but in fact gives you the most private of browsing experiences you will get on the Internet.
This is Brave Browser, the future of browsing
What is Brave Browser?
Created by JavaScript and Mozilla founder Brendan Eich, Brave Browser is a free open-source Internet browser that is private by default.
However, if you choose to accept ads, you will be paid a share of the ad revenue.
Brave has similar functions to any other browser: it allows you to browse, view online content, run web applications, and it comes with some of the best ad blocking technology to ensure your browsing experience and digital footprint remains private.
Brave Browser Review
Brave Browser has an easy to navigate UI, and has all the elements you'd expect from a browser.
On the homepage it shows your browsing statistics, such as blocked ads, time saved, HTTPS upgrades, and your Brave Rewards if you opt in for earning BAT.
The homepage also hosts shortcut thumbnails for your most visited websites. It has the local time, and an option for customising your Brave Browser settings.
By design Brave is privacy focussed, and to earn BAT cryptocurrency you have to change the settings to allow ads to be placed on your UI.
If you do, you will start to receive very subtle ads on your homepage, and your browsing experience. You can set the amount of ads, but the more you allow the more BAT you will be rewarded with.
Brave Reward System
Brave has a rewards system for content creators. Brave Rewards lets you anonymously support the sites you visit, automatically.
With Brave Rewards, your browser adds up the attention you spend on each website you visit and divides up a monthly BAT contribution among sites based on your attention.
The rewards are accumulated through donations provided by the network and by companies wanting to advertise on Brave.
Publishers who want to receive BAT need to register their website or content creator channel before they can earn BAT. Once registered content creators will be able to receive tips or BAT from their viewership.
Brave users can also manually tip a website of their choice by simply clicking the Brave logo in the search bar and completing the tip dropdown, like in the image below.
Users can also set ad blocking for individual sites if they choose. Again this is done by clicking the Brave logo in the search bar, and resetting the security functions to suit.
Anyone browsing the Internet on Brave can also earn BAT from opting into ads. They'll either be the subtle ads on your Brave homepage or on websites that have signed up with the Brave Publisher Program.
Your BAT is automatically deposited into your Brave wallet, which is paid out monthly and you are free to do whatever you like with.
Brave is All About Privacy and Security
As a privacy-focused browser, Brave is much more secure than its competitors. As well as blocking ads by default, it also blocks crawlers and blocking scripts.
And if you want the ultimate private browsing experience, Brave offers the ability to open private windows using the Onion Router (TOR).
Although Brave is privacy focused, TOR offers even higher levels of anonymity, but all this is done within your Brave browser.
To do so, just click on the orange arrow at the top right of your screen, and opt to open a new private window with TOR and it will open up for you.
When you open a Private Window with TOR, Brave connects you to a chain of three different computers in the TOR network, one after another, and then to your chosen website. This method guarantees anonymity and complete privacy.
Conclusion
Brave is shaking up the browsing industry. Privacy focused by default, but is also democratising ad revenue.
It's the future of Internet browsing. It's also faster and more secure than all other browsers, and doesn't disrupt your browsing experience with big off-putting ads splashed everywhere.
Brave's main function is privacy and it uses some of the best ad blocking technology out there. If you don't mind to share your online experience with subtle and relevant ads, you will be rewarded for it.
Brave Internet Browser Review
And if you're a content creator, you can register your website and earn tips from your audience.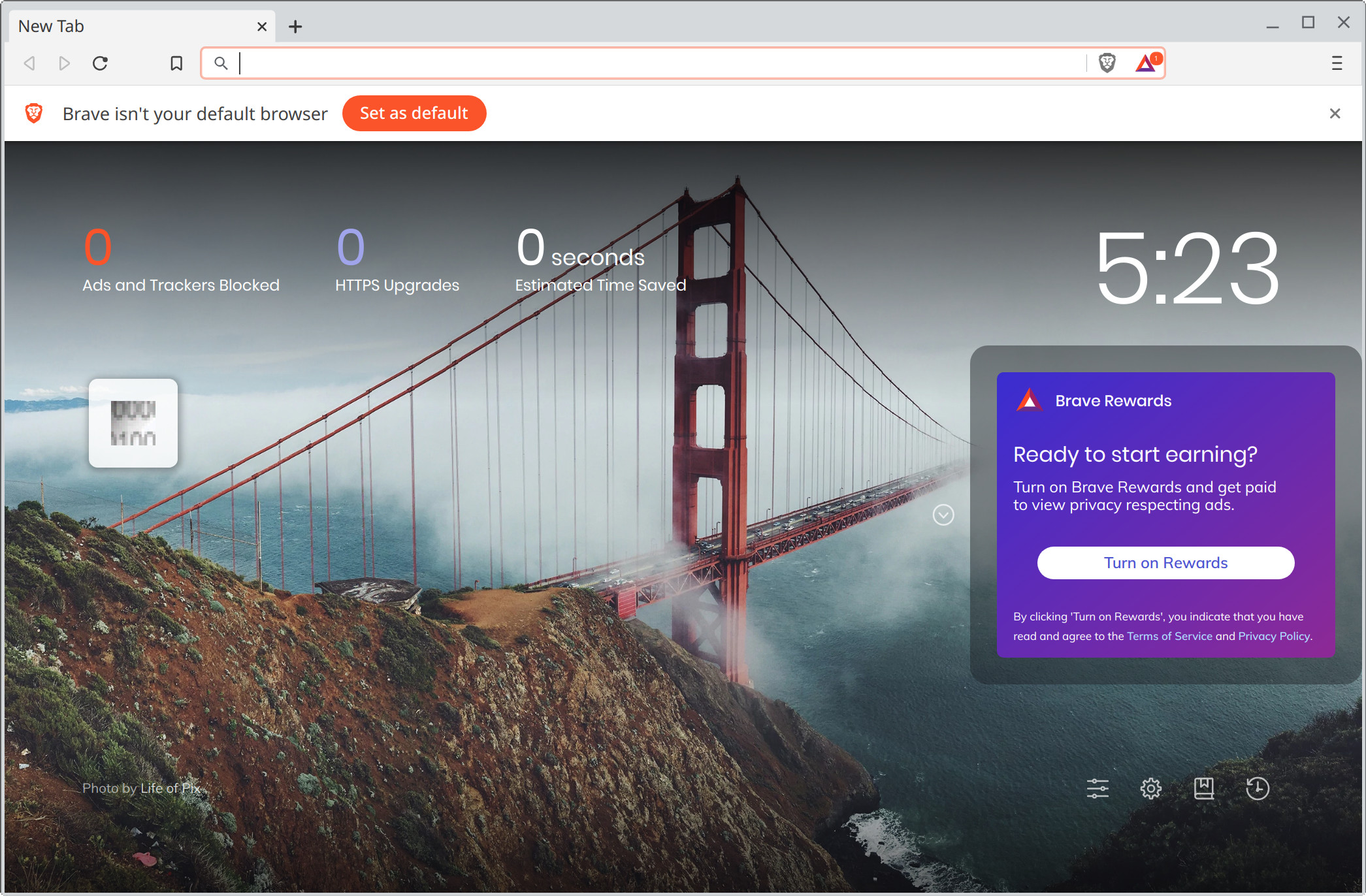 Google Chrome is the most popular browser, because people don't know a better alternative. But with everything Brave offers, Google might have to shake up its browsing offerings.
Brave Internet Browser
Author: Pablo Clarke