COVID-19 has hurt a lot of industries. Restaurants have had to close down, small businesses have been hurt by the increased dependence on online shopping, and the travel industry has been decimated.
Vancouver Canucks tweets from players, media, beat-writers, bloggers and other personalities on Twitter. Canucks Twitter: COVID-19 continues to be very serious and we encourage everyone to follow the public health orders. We hope to have further information to share in the coming days. Stay safe and healthy.
But won't someone please think of the paparazzi?
Consider TMZ. This entire pandemic must be really hard on them. Their usual style of confronting celebrities face-to-face won't fly in a time of social distancing when every inane question also comes with droplets that could spread a contagious disease. With fewer crowds, it's harder to hide with a big telephoto lens. And it's even harder to recognize celebrities these days because everyone's wearing a mask.
So, what's a sensationalistic tabloid to do? It seems they've gotten so desperate that they've turned to another source of gossip and drama: Canucks Twitter.
TMZ is used to covering and sensationalizing the dregs of society, so it's no surprise that they've turned to Canucks Twitter for inspiration. It was only a matter of time. But they're not covering the latest argument about whether Jake Virtanen is or is not a top-six forward or if Elias Pettersson was right or wrong to go on the Spittin' Chiclets podcast.
Instead, they created a story out of a single Twitter thread about the Canucks orca logo and the conversation around cultural appropriation.
That in itself isn't an issue. It's a conversation worth having, one sparked by Braden Holtby's recent apology for his new mask, which used Indigenous art but was created by a non-Indigenous artist with now acknowledgement or credit given to the original artists. Holtby took the correction in stride and has said he will work with an Indigenous artist for his next goalie mask, but the conversation has continued.
Dr. Sean Carleton, a professor of Canadian and Indigenous history at the University of Manitoba, posted a Twitter thread on the subject of the Canucks' logo, a killer whale or orca that uses elements of Coast Salish or Haida design. He pointed out that as much as Holtby's mask was appropriation, so is the Canucks' logo.
In light of sports teams in Cleveland, Washington, and Edmonton getting rid of racist and appropriated Indigenous team names/logos, it's time to have a discussion about the Vancouver @Canucks's Indigenous appropriated Orca logo. Here's a thread. pic.twitter.com/QCuR6zoBae
— Sean Carleton (@SeanCarleton) December 14, 2020
Dr. Carleton connects the Canucks' orca logo to the larger national conversations happening around appropriation in sports. 2020 has seen several teams drop racist or racially-insensitive team names and logos. Most recently the Cleveland Indians announced that they will be changing their name, while the CFL's Edmonton and NFL's Washington football teams have already dropped their former monikers. Other teams like the Atlanta Braves, Kansas City Chiefs, and Chicago Blackhawks have thus far not done the same.
While the orca isn't a racially-charged caricature, it was created without the input of Indigenous artists. Dr. Carleton's thread provides historical context for why cultural appropriation is a problem and suggests a few ways to move forward, from retiring the logo to working with Indigenous artists to create more appropriate iconography for the Canucks.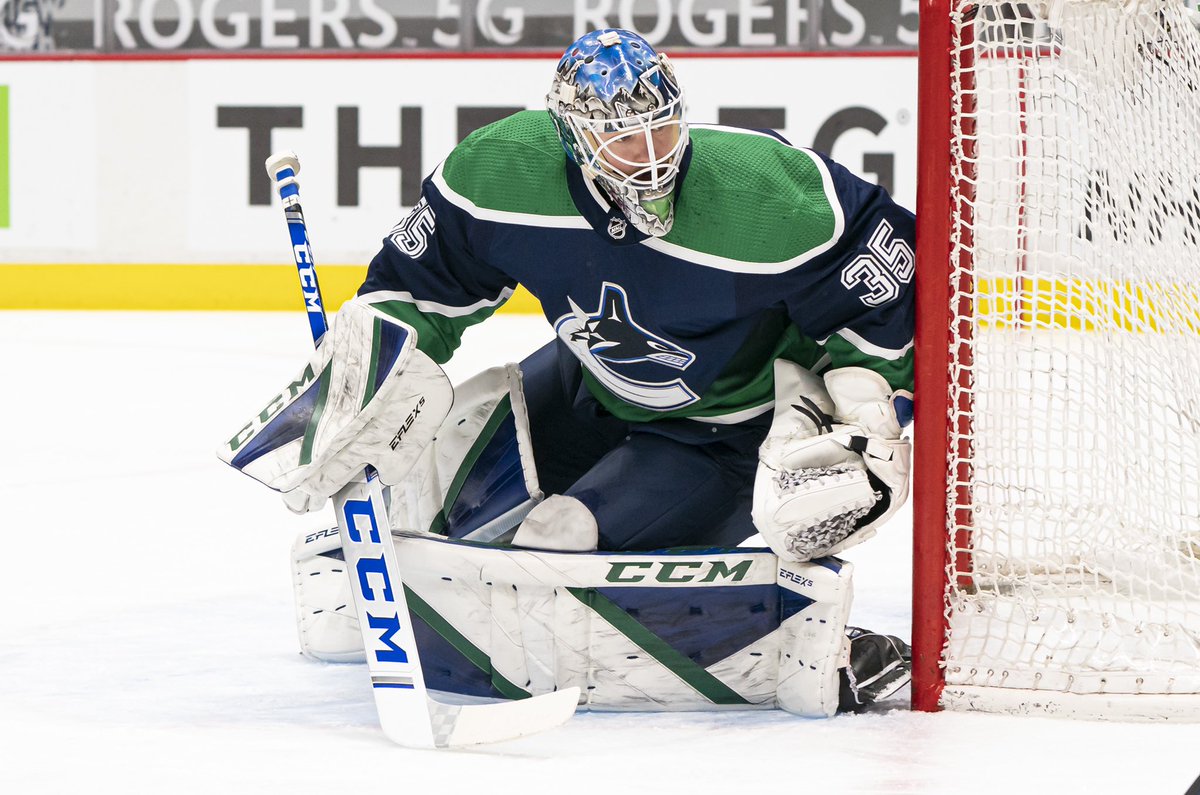 Or, as a Canucks fan, here's my suggestion: that the Canucks continue to develop meaningful partnerships with Indigenous peoples in the city and province AND retire the orca logo and just go back to their best, classic design - the original stick and rink. pic.twitter.com/XBrAwlhSX4
— Sean Carleton (@SeanCarleton) December 14, 2020
It's worth noting that other teams have incorporated Indigenous art into their logo without appropriation. The Arizona Coyotes Kachina logo was designed with approval from Hopi tribe leadership, for example.
Hardware Canucks Twitter
Some will agree with the conclusions drawn by Dr. Carleton, while others will not. We should all be able to agree, however, that it's a worthwhile and reasonable conversation to have. At the very least, it's clear that no one is pressuring the Canucks to make any changes, merely opening up the door for more productive collaboration between the Canucks and the First Nations on whose unceded land they play.
At least, that's clear to everyone except TMZ, who gave their story on Dr. Carleton's thread an alarmist spin and the 'Breaking News' tag.
TMZ's headline for their story on a Canucks Twitter thread.
The substance of TMZ's story is literally just Dr. Carleton's Twitter thread. There's no evidence that anyone is actually pressuring the Canucks, but it sounds a lot more exciting if that were the case.
Really, we shouldn't be too harsh on TMZ for sensationalizing what is really just a small piece of a local conversation. As mentioned, times are tough for paparazzi these days. What else can they do?
Perhaps the Canucks should change their logo. Perhaps not. It's not unreasonable to ask the Canucks to at least connect with local First Nations leaders and artists and open up a conversation about the topic. Beyond the argument about cultural appropriation, it's worth revisiting the orca design because it has the potential to look incredible.
#canucks
ANDY everson logos pic.twitter.com/cOoZVhAzQc
Canucks Hockey Game Tonight
— Rob Sampare Brotchie (@canucker101) December 15, 2020
While these particular examples are likely too busy to work as logos, it's easy to see how collaborating with an Indigenous artist could result in something more authentic and less appropriative.
Canucks Twitter Pr
That said, no pressure, Canucks. No matter what TMZ says.