About this Theme
With over 70,000 downloads, Hueman is one of the best free WordPress themes. It's a very versatile theme for building a blog or a magazine, but it is also useful for putting together a simple corporate site.
Hueman is a free WordPress theme by Press Customizr, the makers of the (also very popular) Customizr theme, which comes in free and pro versions. Press Customizr specializes in making themes that are easy for beginners to use and customize. Over 200,000 WordPress websites use their themes. Go to the Hueman theme directory on Click on the Download button. After downloading you should have a hueman.zip file. This is a compressed file containing all of the required templates and images required for the theme to function properly. Go to Appearance Themes from WordPress admin Dashboard. Click on the Add New. Personalia Premium; Clearwork Free; Halftype Free; Cutslice Free; Dashscroll Free; Folias Premium; Motioner Free; Airl Premium; Screenplan Premium; Typesolid Premium.
Main Features:
Topbar, header and footer menus
unlimited widget areas,
0-2 sidebars to the left or right that can be uniquely specified for each page or post
300px / 220px fixed width sidebars,
0-4 footer widget columns,
related posts and post nav,
featured story or slider,
good SEO,
3 flexible custom widgets,
localisation support,
social links,
logo upload
Furthermore it comes with three proprietary handy widgets: AxlTabs, AxlPosts and AxlVideos
With AxlPosts you can add to the sidebar a recent post list, a popular posts parade (related to a category or a specific tag. The AxlVideos is a simple video embed utility).
The most interesting one is AxlTabs that is a dynamic widget generator of tabs that list popular posts, category posts or comments.
The theme comes with a rich options panel to configure the site sections below:
General
Blog
Header
Footer
Layout (the most interesting options are here!)
Sidebars
Social Links
Styling
Not just for blogging: compose pages and posts without layout limits!
Hueman has a useful tool to make your pages and posts fully customizable in terms of layout: full width, one sidebar, two sidebars…..
Available Layouts in Hueman theme
The layout and customization process comes very easy and intuitive, from the post editing screen, below the WYSIWYG content editor.
Add custom Sidebars
This theme has been designed with a wide and powerful sidebar management control.
Browsing through Appearance > Theme Options > Sidebars : you will be able to create new sidebars and assign them to the various sections of the site (for example, you can use a specific sidebar for your homepage and another for other pages). Very useful to organize your content in the various sidebars of your site.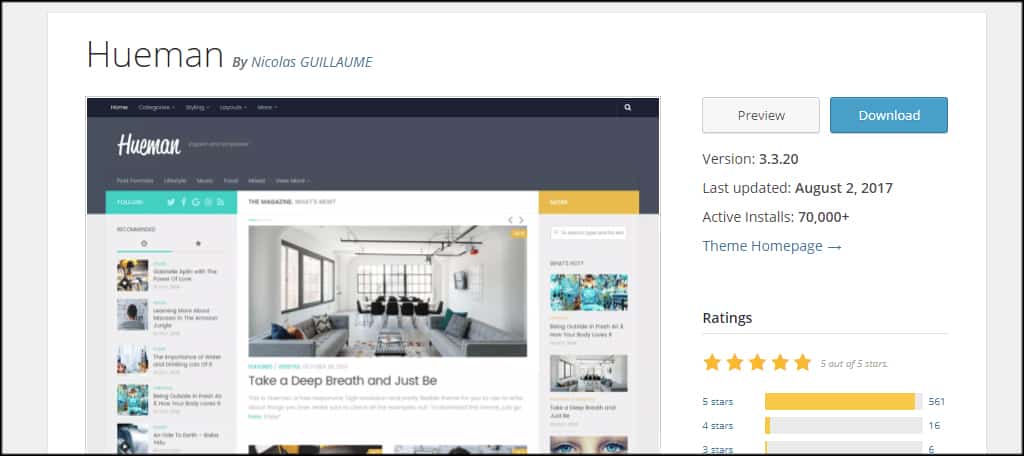 SIdebar control panel in Hueman theme
Sidebar and responsive support
You can also decide whether to display or not the sidebar on tablet devices . The sidebar will be shown with a side button, allowing you to quickly expand them to one side.
Built in customization options
Hueman provides some basic styling customization options, through a back end theme panel :
Basic fonts selection
Boxed Layout
Width
Color-picker
You can definitely customize Hueman's styling more thoroughly – and all from the frontend – using CSS Hero: watch the video below, that only shows a small part of what you can do:
If you use (or plan to use) this Theme...
CSS Hero can help you deeply and quickly customize the Hueman Theme, solving some common issues like:
How to customize fonts in the Hueman WordPress Theme, to make font biggers or change typeface for titles and header texts
How to change CSS background image on the Hueman WordPress Theme and build background fades
How to change colors and styles on Hueman WordPress Theme
How to change size of page width
How to change CSS style of top navigation buttons
Customize the CSS style of navigation menu on the Hueman Theme
How to customize the footer on the Hueman WordPress Theme
Hueman Theme Review
There are really lots of free and premium themes for WordPress. Hueman is a free theme which can be used for WP blogs. Premium version is also available.
The Hueman theme loads fast and is 100% mobile-friendly according to Google. This theme is activated in more than 70K+ websites around the world.
Hueman Theme Layout
You can change the background color of the head in Hueman when using a basic version.
To change the head background color of this theme, please add the following CSS code:
You can add the above code under Appearance > Customize > Additional CSS. Or you can create a child theme (which is a good way to modify or customize your theme.)
Personally, I love this theme and use one of my personal blogs.
Hueman Theme Documentation
For simple blogs or magazine sites, Hueman might be a good choice. If you site grows, you may want to consider Newspaper or other blog or magazine WordPress themes. Newspaper is the best-selling blog theme.
Hueman Theme Customization
If you are not good at coding, you can consider Avada, the best-selling WordPress theme for 6 consecutive years. Avada is a multi-purpose theme which is good for most websites.